Bradley, G. (2017). THE GOOD ICT SOCIETY - From Theory to Actions. London/NY: Routledge 2017. 130 pp. ISBN: 978-1-138-29429-5 (hbk) ISBN: 978-1-315-23167-9 (ebk) Hardback, Paperback(138 pp). Available also as an E-book were all 27 illustrations are in color.
Information and Communication Technologies, Society and Human Beings – Theory and Framework. Honoring Professor Gunilla Bradley. (Editors: Darek Haftor & Anita Mirijamdotter). IGI Global 2011. ISBN 978-1-60960-0. 630 pp.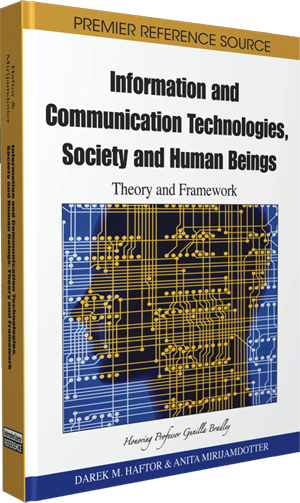 ---
Gunilla Bradley (2006) Social and Community Informatics - Humans on the Net London: Routledge, ISBN 0-415-38184-3 (hbk) ISBN 0-415-38185-1 (pbk) 265 pp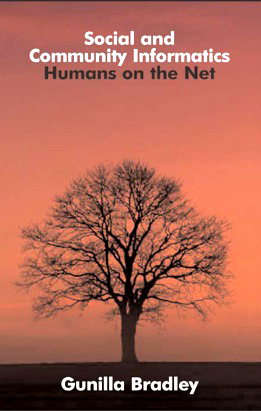 ---
A Great Event 2010
A great event took place in August 4th 2010, at the newly inaugurated Linnaeus University, Växjö, Sweden. The purpose was to celebrate "the life-long scholarly endeavor of Gunilla Bradley in the Pioneering Spirit of Carl von Linnaeus", on the initiative of Anita Mirijamdotter and Darek Haftor. In the Teleborg Castle, at the University Campus, the formal release of the Bradley Festschrift, the presentation of the content and a roundtable discussion took place. The inpiring seminar was held in the castle with participants from all continents of the world which had contributed with chapters in the Festschrift book. The discussion will be followed up in Rome July 2011, see below under "IADIS 2011! The Festschrift book is presented in the first page of the home page as well as under "Publications > Books Showroom". In the evening a "The Fest Banquet" took place in "The House of Emigrants", including a museum round tour, delicious local menu, beautiful choir music, and many touching talks at the dinner.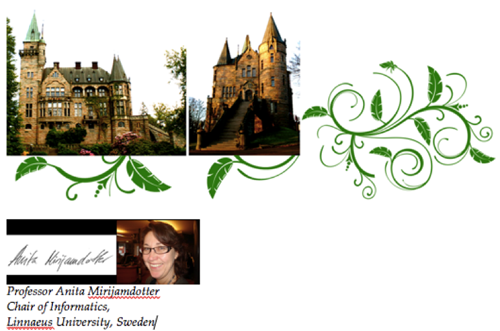 From Fest Symposium at Teleborg Castle at Linnaeus Univeristy, Campus Växsjö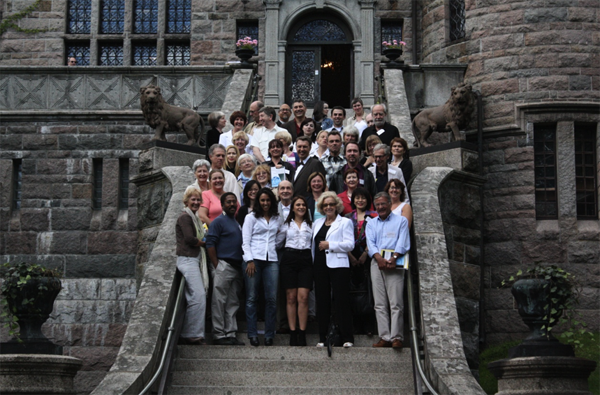 ---
Doctoral course in Social Informatics, Salzburg University, ICT & Society Centre 2008 Upper row from left: Wolfgang Hofkirchner, Robert Bichler, GB, Matthias Schafranek, Lower row from left: Christina Neumayer, Celina Raffl, Stefan Blachfellner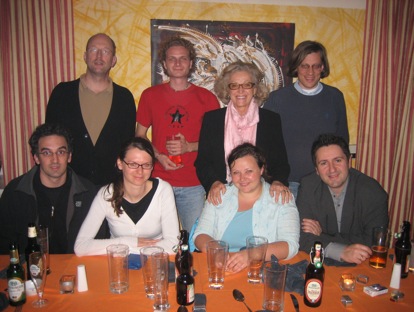 ---
"Celebrating Academic promotion of the new Tech. Dr. Karin Bradley in the City Hall of Stockholm in 2009 with great husband Ola Bromsi Wessel".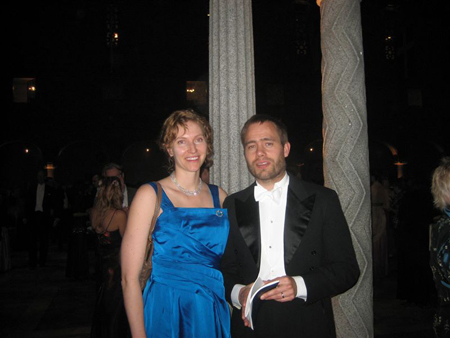 ---
Karin Bradley and Johan Hedrén (eds.)
Green Utopianism - Perspectives, Politics and Micro-Practices
Routledge (2014) - 290pp. Series: Routledge Studies in Environment, Culture, and Society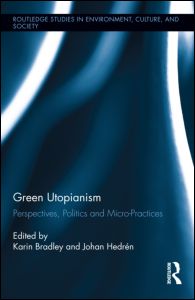 ---
Miranda Kajtazi, new Doctor at Linnaeus University, academic ceremony at Campus Kalmar. Surounded by Gunilla Bradley, Christina Mörtberg, Anita Mirijamdotter – all three professors in Informatics.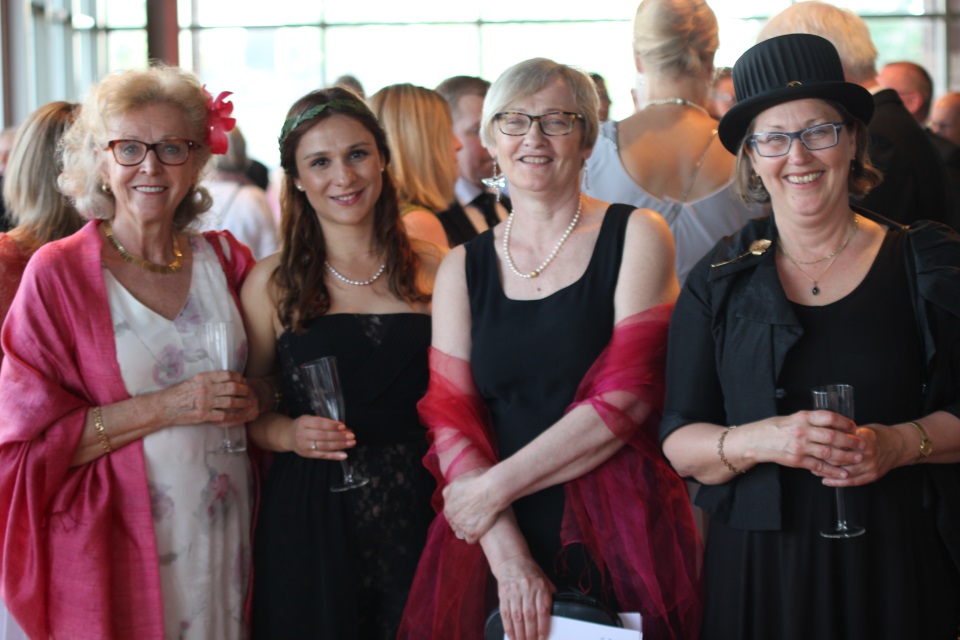 ---
IADIS conference 2008:
Chair and key note speakers at the IADIS conference 2008, Amsterdam.Professors Margaret Tan (Singapore), Gunilla Bradley and Simone Fischer-Hübner (Sweden).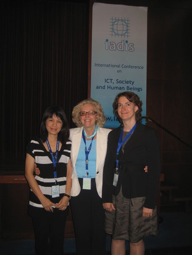 ---
Community Informatics Network conference 2007:
Community Informatics Network (CIRN) conference, Prato, Italy 2007. Delegates from Mozambique Mrs Ludmila Maguni and Peru Ass Prof Eduardo Villanueva (SPIDER support, Sweden).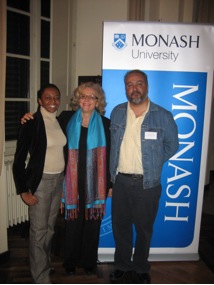 ---
Human Computer Interaction International conference 2007:
Human Computer Interaction International conference HCII 2007, Beijing. Book display discussion.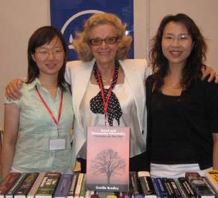 ---
Research report about HOME OF THE FUTURE:
Report delivered from the project "Home of the Future" Linda Bradley (2005). Home of the Future Japan - Information and Communication Technology (ICT) and Changes in Society and Human Patterns of Behaviour in the Network Era. KTH Research report ISBN 91-7178-052-1. Stockholm: Royal Institute of Technology (KTH).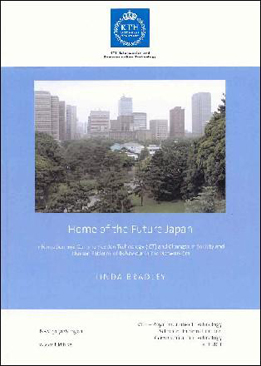 Linda Bradley

Founder and Business Retail Director at
DIAMON International Business House (B.I.G.)
---
Doctoral Thesis about DISTANT WORK:
Eva Jansson (2005). Working Together when Being Apart. An analysis of distributed Collaborative Work through ICT from Psychosocial and Organizational Perspective. Doctoral dissertation at Department of Computer and System Sciences, IT University, Royal Institute of Technology, Stockholm.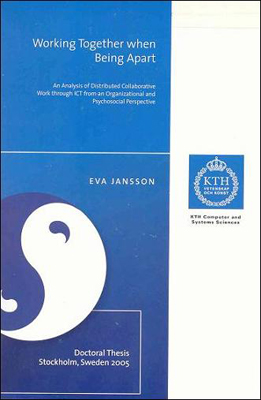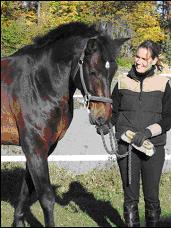 Eva Jansson

Associate Director
Gartner
---